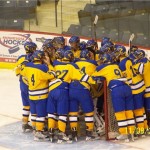 The Prowlers began season play against the Roseau Rams.  The Prowlers Lead the Rams at one point 3 to 1 scoring on two consecutive power plays.  Goals coming from Matt Audette and sophomore Riley Soderstrom who netted 2.  The Rams scored late in the second and cut the lead to 1.  The third was all Roseau scoring 5 consecutive goals on the Prowlers.  Roseau defeated TRF 6-3, while being outshot by the Prowlers 34-25.
            Friday night the Prowlers looked for redemption as they faced Totino Grace.  The Eagles played the Prowlers tough in the first, ending in a 1-1 stalemate.  The Prowlers were too much to handle in the second scoring 3 unanswered goals.  Goals came from Matt Linkquist (2), Ryan Crosson, and Jacob Malwitz.  The Prowlers held on to their 3 goals lead defeating the Eagles 6-3, collecting their first win of the season.  Also scoring for the Prowlers was Brendan Skime, and Micah Ranum.
            The Saturday game was much of the same for TRF, defeating Monticello 7 to 1.  Micah Ranum lead the Prowlers in scoring collecting a hat trick. TRF ended the week 2-1, with Linkquist and Ranum leading the Prowlers in points. The Prowlers face the Blake Bears and St. Paul Johnson next weekend.