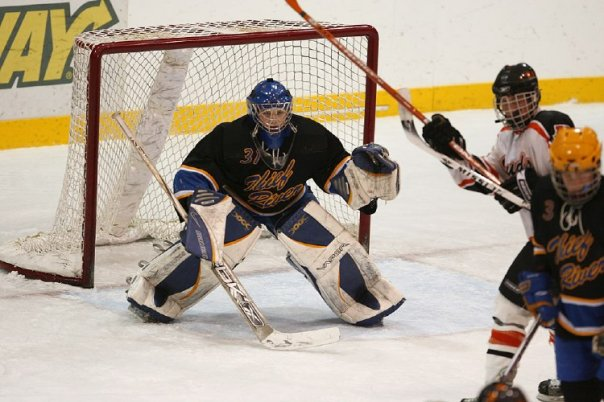 With the start of the 2009-2010 Prowler hockey season underway, Thief River Falls returns a nearly intact defensive core which helped lead the Prowlers to a 21-5-2 record, and also reaching the section 8A finals, before losing to the Warroad Warriors.  The Prowlers will be looking for an offensive leader, with the loss of 5 key senior forwards who each tallied over 20pts.  Those seniors included Lucas Dillon (53 pts), Kent Peterson (38 pts), Tyler Aandal (35 pts), Jesse Castle (29 pts), and Keaton Joppru (23 pts).
            The key returning forwards for the Prowlers are Matt Lindquist, Brady Meniuer, and Brady Johnson.  Matt Lindquist led the way in scoring with 26 pts last season, and the Prowlers will need to look to him again for offense in 2010.  "I'm excited to see who's going to step up and put the puck in the net this season" acknowledged coach Tim Bergland.  New comer Micah Ranum may be what the Prowlers need to replace the offense from 09.  Ranum who recently moved back to Thief River Falls, was a high school standout in Alaska last season.  "Micah will be a good addition, he will add size and we will look to him to create offense," commented Bergland.  New faces such as Riley Soderstrom (10th Grade) and Chris Forney (9th Grade) will also play key roles in the Prowler offense.
            On the blue line, the Prowlers return Senior Jacob Malwitz, Derek Kayser, Matt Audette, and Drew Erickson.  Jacob Malwitz led the defense in scoring last season with 20 pts.  The Prowlers will look to these veteran defensemen to lead the way this season. With the help of Ryan Crosson, the Prowler D will be very solid again, while providing offense as well.
            Between the pipes the Prowlers return senior Zane Gothberg, who opted to play out his senior year instead of leaving to play in the USHL.  Gothberg, who recently committed to the University of North Dakota, will be a big asset to the success of the Prowlers.  Gothberg is touted as one of the states best, and recorded a 1.49 goals against average and a .937 save percentage in the 2008-2009 season.
            The Prowlers will begin their play on Dec. 1st against the Roseau Rams at home.  "Roseau will be a good test to see where we are at" coach Bergland commented.  Roseau comes into the game with a preseason ranking of 17th in class AA, while the Prowlers are ranked 11th in class A.